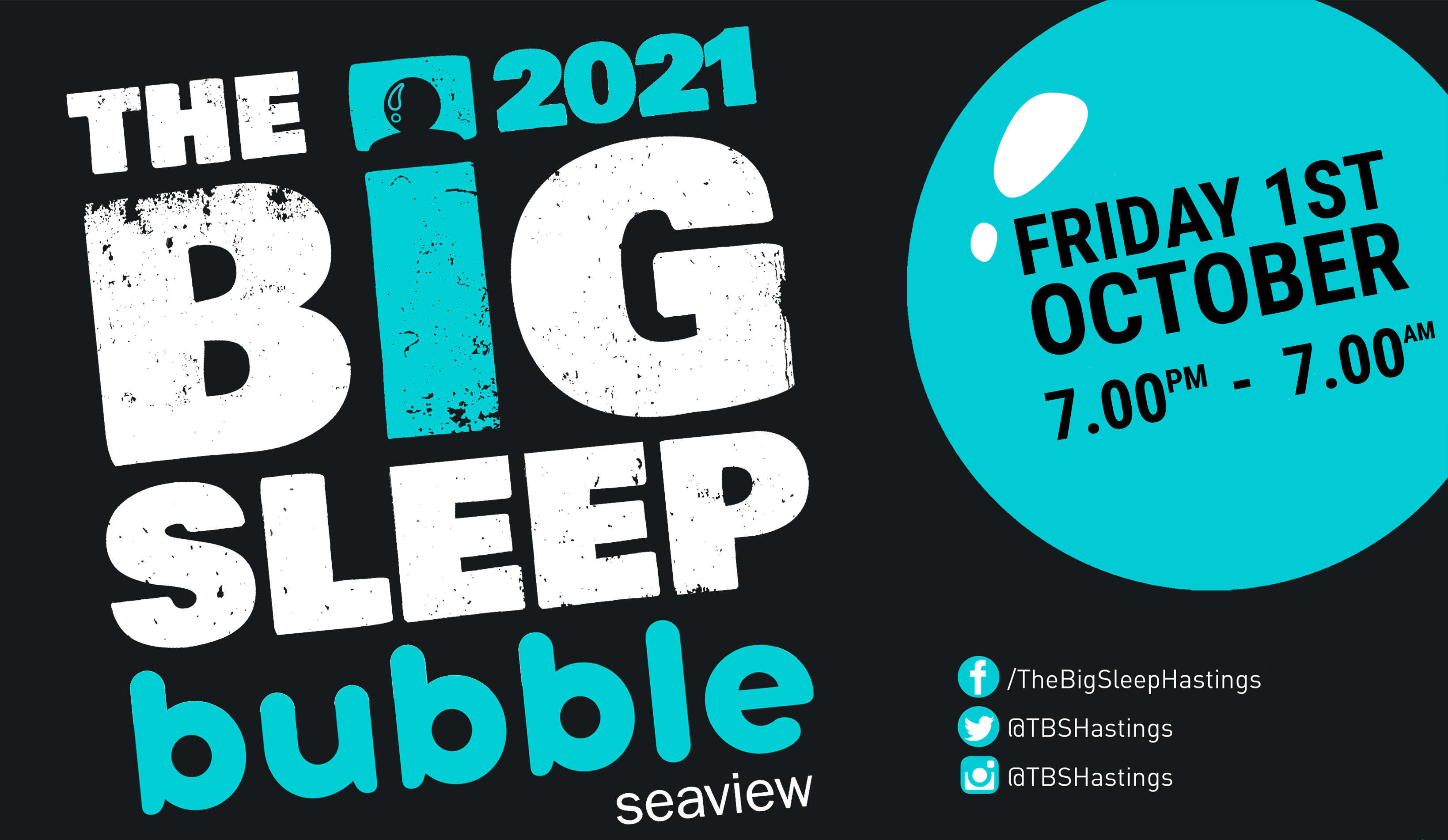 Swap your bed for a sleeping bag for one night and give a homeless person a chance of a better future.
Returning for its 6th year, the Big Sleep encourages teams and individuals to sleep out in their own outdoor space for a night and raise awareness and vital funds for Seaview. This COVID safe event is our first online venture, which commences at 7pm on the 1st of October.

SLEEP OUTDOORS FOR ONE NIGHT

IT WILL BE COLD AND IT WILL BE TOUGH

HELP US PUT A STOP TO HOMELESSNESS

ALL PROCEEDS GO TO SEAVIEW, A CHARITY WORKING WITH THE HOMELESS AND VULNERABLE
Is there a minimum amount I need to raise to take part?
We encourage everyone to raise a minimum of £25 before entering; the first 25 people to raise £25 will also receive a box to sleep in.
Can I participate as a group?
You can join as an individual or as part of a family or friends bubble. Sign up here.
Is there an age limit for this event?
If you are under 18 and would like to participate in the experience, you can – under some terms and conditions. We will need to see written consent from a parent or guardian, and if you are one of the first 25 to raise a minimum of £25 you will receive a box.. For more details please contact the Big Sleep team on admin@seaviewproject.org.uk.
We advise participants aged 65 and over to seek medical advice before registering.
Will I be safe?
The idea of the event is to show support and raise awareness of issues facing homelessness but not to attempt to put you in danger. There is no denying the outdoors is an open and exposed place to sleep. The Big Sleep will be a challenge and its important to take responsibility for your own safety.
We encourage people to sleep outside in their own space where they can, such as a garden. We encourage people to avoid sleeping anywhere too exposed or in the public as we cannot provide security and therefore cannot guarantee your safety if you choose to do so. Weather conditions may also prove a challenge as we enter October, so remember to bring a warm sleeping bag and any blankets you may have!
How do I register online?
There are many ways to be involved. Please visit the 'Get Involved' page for further information.
What do I need to prepare for the sleep out?
A warm sleeping bag, this is an essential item for staying safe and managing your wellbeing during the challenge. Warm, waterproof clothing are also advised.
What is different about the Big Sleep 'Bubble'?
The 'Bubble' element refers to sleeping within your own household group, whether that be your family or friends – in your own outdoor space. This year, we have chosen to do it this way due to the pandemic and any restrictions that may arise as a result. There is no predicting the future, so we wanted to make sure this event was not only Covid safe, but Covid proof!
Terms and conditions
Full terms and conditions are available
here
We're looking for sponsors for The Big Sleep Bubble 2021. Get in touch if you'd like to become a sponsor and have your company logo featured below and find out additional benefits we can offer business sponsors! Thank you to all our sponsors below for making a success of The Big Sleep Bubble 2021! We appreciate it very much!