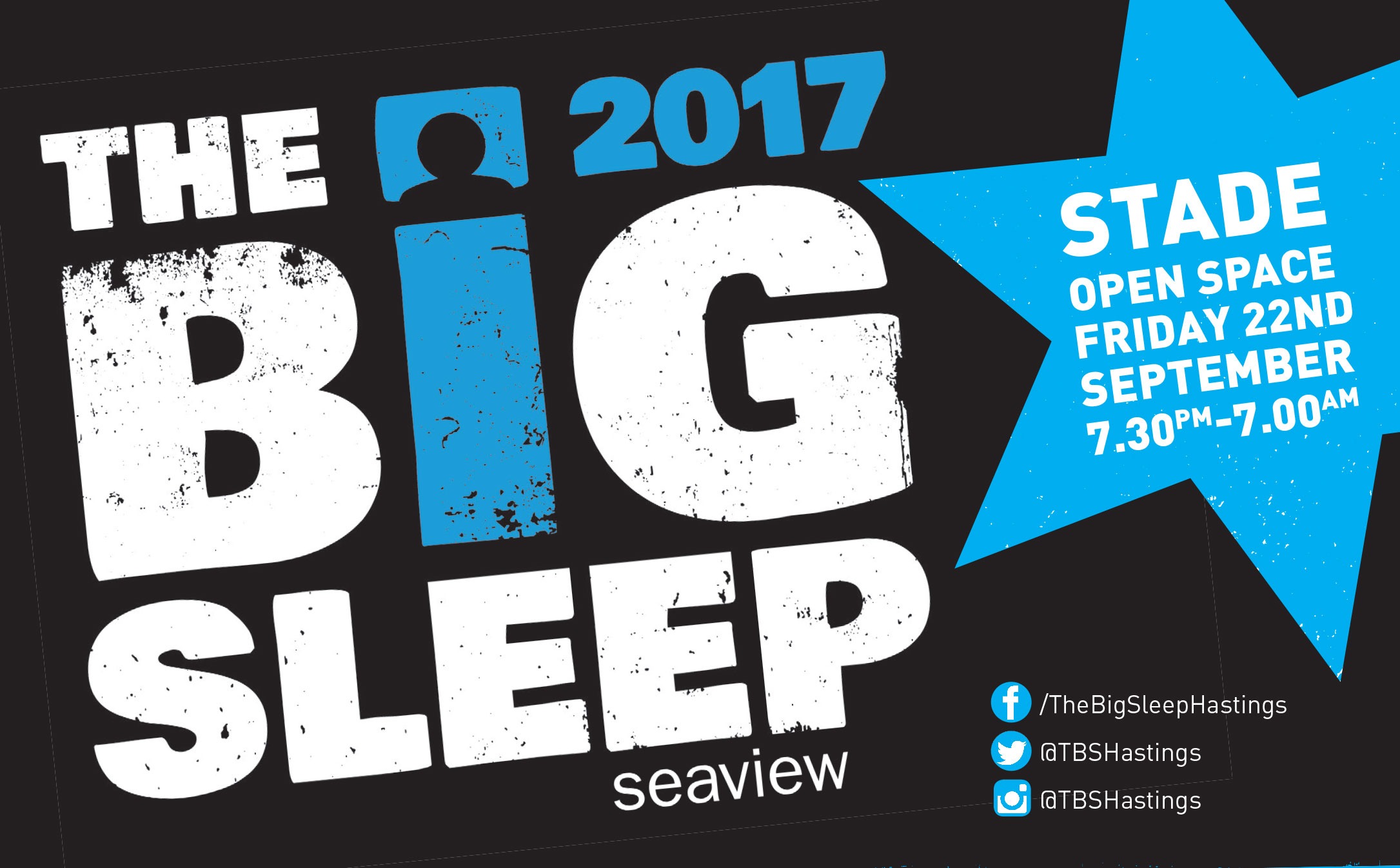 Swap your bed for a sleeping bag and give a homeless person a chance of a better future. Hastings favourites, Dr Savage and The Rufus Stone Band will provide free entertainment between 8.00 and 10.00pm, hosted by TV and Radio Presenter Kevin Devine. The sleep out, a ticketed event, commences at 10.00 pm in our cardboard city on the Stade. An unplugged intimate set, exclusively for those sleeping out, will take place around the brazier by award winning blues man King Size Slim, followed by a bedtime story from local entertainer Brad Gross. Hot drinks will be available throughout the night with porridge served the following morning. Tickets for the sleep out are free but you do need to fundraise a minimum of £25. Of course we'd like you to raise a lot more and there are lots of prizes to be won if you do!

SLEEP OUT FOR ONE NIGHT IN A CARDBOARD BOX

IT WILL BE COLD AND IT WILL BE TOUGH

HELP US PUT A STOP TO HOMELESSNESS

LIVE PERFORMANCES FROM DR SAVAGE, RUFUS STONE BAND, KING SIZE SLIM

SOUP RUN AND BREAKFAST PROVIDED

ALL PROCEEDS GO TO SEAVIEW, A CHARITY WORKING WITH THE HOMELESS AND VULNERABLE
Is there a minimum amount I need to raise to take part?
We ask everyone to raise a minimum of £25 before entering.
Can I participate as a group?
Groups are welcome to take part but all group members must register individually – unless they are part of a workplace team.
Is there an age limit for this event?
Participants must be aged 18 and over. We advise participants aged 65 and over to seek medical advice before registering for the event.
Will I be safe?
The idea of the event is to show support and raise awareness of issues facing homelessness but not to attempt to put you in danger. There is no denying this is an open and exposed place to sleep. The Big Sleep will be a challenge and we will take measures to protect you.
You will be sleeping in a secure area and we will have security guards and stewards to protect you. However please be sensible, try and avoid bringing along anything valuable or fragile. We will provide a cardboard box for you to sleep in, you need to remember a warm sleeping bag!
How do I register online?
There are many ways to be involved. Please visit the Get involved page for further information.
What do I need to bring for the sleep out?
A warm sleeping bag, this is an essential item and you will not be permitted to sleep out without one. Warm, waterproof clothing are also advised.
Will there be toilets?
Participants will be able to use toilets in the Stade Hall throughout the event.
Will food be provided?
We will provide hot soup in the evening and porridge in the morning. Hot drinks will be available throughout the event.
Can I just turn up on the night and sleep out?
Unfortunately not, we need to know the number of people who are taking part in the sleep out in advance. This is a fundraising event so participants must register in advance and have raised a minimum of £25 in sponsor money.
What about the music event? Can I just turn up to this?
Yes, the evening entertainment, kicking off at 8pm is open to everyone. No need to book tickets in advance or to register for this part of the event.
Terms and conditions
Full terms and conditions are available here